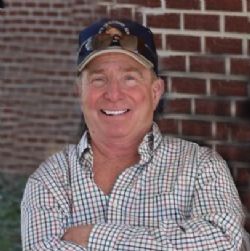 Tim Knight, DVM
September 10, 1957 - September 2, 2021
David Timothy ''Tim'' Knight, Sr. DVM, age 63 of Wilmar, passed away Thursday, September 2, 2021, at Baptist Springhill Hospital in North Little Rock, AR. He was born September 10, 1957, in Monticello, AR to the late David William Knight and Catherine Lucille Creed Knight.
He was a veterinarian and was of the Methodist faith. Tim's life centered around his work. He loved his veterinarian work and helping people. He was also a rodeo clown for many years which he enjoyed very much.
Survivors include his wife, Diane Knight of Wilmar; three sons, James Knight of Crossett, David Knight, Jr. and wife Becki of Monticello and Hayden Knight of Pine Bluff; a step-daughter, Christy Phillips and husband Chanse; his sister, Eloise Worlow and husband Bob of Hensley; and his grandchildren, David Timothy "Trey" Knight, III, Abigail Knight, Della Knight, Bryce Phillips, Weston Phillips and Dylan Phillips.
Dr. Knight was a member of Wilmar Methodist Church. Tim loved sports, playing basketball and playing American Legion baseball while attending Wilmar High School. He was also active in 4-H, which led to him having a soft spot for local 4-H clubs as an adult. After high school, he attended the University of Arkansas, Fayetteville, for 3 years before earning his Doctorate of Veterinary Medicine from LSU. After graduating, he returned to Wilmar, and became well known as a go-to veterinarian across South Arkansas as he took on Warren and Hope sale barns, which he dearly loved. As a member of the Monticello Riding Club, he also enjoyed performing as a rodeo clown for the Drew County rodeo.
In lieu of flowers, please donate to your local 4-H clubs. If you don't have a local club, you can send a check payable to 4-H to Diane Knight, 211 Dave Knight Rd., Wilmar, AR 71675, and she will see that it reaches a club.
Funeral service will be 10:00 a.m. Tuesday, September 7, 2021, at Stephenson-Dearman Funeral Chapel with burial in Wilmar Cemetery. Visitation will be from 6:00-8:00 p.m. Monday evening at the funeral home. Online guestbook at www.stephensondearman.com.



Obituary Provided By:



943 Highway 425 North
Monticello, AR 71655
www.stephensondearman.com