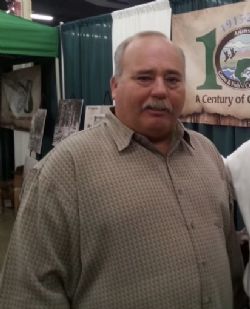 Floyd "Meatball" Lamar Brantley
August 8, 1962 - November 8, 2021
Floyd Lamar "Meatball" Brantley, age 59 of Monticello, AR, passed away November 8, 2021, at St. Vincent Hospital in Little Rock, Arkansas. He was born August 8, 1962, in Monticello, AR to the Late Shelby Gene Brantley and the late Linda Jane McHan Sinclair in Monticello, Arkansas. He was a Christian and was retired from the Arkansas Department of Corrections after 31 years of service. He was a 1980 graduate of Monticello High School, an avid hunter where he was a member of 30-30 Hunting Club and loved spending time with his family.

Meatball is preceded in death by his parents and two brothers, Bobby Eugene Brantley and Steve Lynn Brantley.

He is survived by his children, Miles Channing Brantley and Victoria Camille Brantley both of Hot Springs; one brother, Jeffery Dewayne Brantley of Conway; a step-sister, Kasey Johnson and husband Steve of El Dorado; his step-father, Danny Sinclair of Monticello; the mother of his children, Denise Binns; as well as a host of nieces, nephews, family, and friends.

Visitation will be Monday, November 15, 2021, from 6:00 - 8:00 p.m. in the Stephenson-Dearman Chapel. Funeral Services will be Tuesday, November 16, 2021, at 1:00 p.m. in the Stephenson-Dearman Chapel. Burial will be in Union Ridge Cemetery. For more information or to sign the guestbook please visit www.stephensondearman.com. Memorials may be made in his honor to Stephenson-Dearman Funeral Home.

The family will be meeting at the home of Sheila Gardner, 419 State School Rd, Monticello, Arkansas.


Obituary Provided By:



943 Highway 425 North
Monticello, AR 71655
www.stephensondearman.com