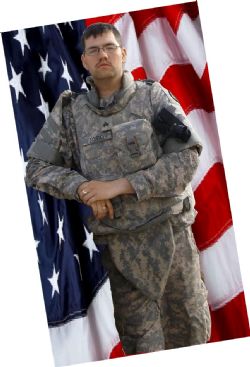 Steven Thomas Halley
April 5, 1983 - November 7, 2022
Steven Thomas Halley, age 39 of Monticello, AR, passed away Monday, November 7, 2022. He was born on April 5, 1983, in Monticello, AR.
He was an Allied Security Officer and a Christian. Steven was also a member of the Arkansas Army National Guard with an E-6 Sgt. Rank and served during Iraqi Freedom. Steven's passion was riding motorcycles but also enjoyed playing video games, pyrotechnics, driving BMW's and was dedicated to serving his country.
He is survived by his father and step-mother, Emmett Calvin Halley, Jr. and Cendye Halley of Hot Springs; his mother, Shirley Gail Gregory of Monticello; one daughter, Zoey Aurora Madison Halley of Illinois; a brother, Ricky Dale Halley of Monticello; a half-sister, Cynthia Marie Halley of Monticello; a sister-in-law, Kathy Halley; his ex-spouse, Bellamy Halley; two nieces; one nephew; and three special cousins, Jonathan Halley, Chris Halley, and Brittany Schwartz.
Funeral services will be 10:00 a.m. Saturday, November 12, 2022, at Stephenson-Dearman Funeral Chapel with Rev. Jack Hill, Sr. officiating. There will be a visitation from 5:00-7:00 p.m. Friday evening at the funeral home. The burial will be in Beulah Cemetery. You can sign Steven's guestbook page at www.stephensondearman.com.

Obituary Provided By:



943 Highway 425 North
Monticello, AR 71655
www.stephensondearman.com