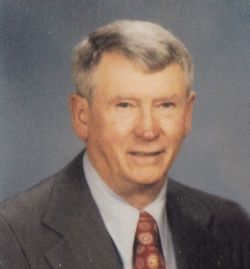 Benny Jack Wilson
November 4, 1931 - November 14, 2022
Benny Jack Wilson, age 91 of Monticello, formerly of Pine Bluff passed away Monday, November 14, 2022, at The Woods Nursing and Rehab in Monticello, AR. He was born November 4, 1931, at McCall Creek, MS to the late Kirby May Wilson and Mildred Anona Byrd Wilson.
Mr. Wilson was educated in Natchez, MS, and graduated from Natchez High School in 1952. He was an avid basketball player there and still holds the All Big Eight Tournament scoring title. It was there he met the love of his life, his future wife, Billie Sue McNeil. They married on July 18, 1952. He attended Louisiana Tech College on a basketball scholarship.
B.J. as many called him, worked and retired after 41 years as a Millwright at International Paper. He was a Mercury outboard motor mechanic at Arkansas Wormranch and later for Bradford Marine. He loved his family, hunting, fishing, camping at Lake Ouachita, telling stories and pulling jokes, playing checkers, or any game (if he could win), eating popcorn or boiled peanuts, and having a fish fry. He was agile in his youth through adulthood playing most sports and was still able to water ski at 68 years old. He was Mr. Fix-It by his family and friends as he could repair almost anything and was always willing to do so. He had the patience of Job, was fun, happy (happy-go-lucky), respectful, hardworking, and willing to share and invest in anyone wanting to learn something he knew about. He was a member of Good Faith Carr United Methodist Church. Along with his parents, he was also preceded in death by two brothers, Rayford A. (Pete) Wilson and Tommy Lee Wilson.
He is survived by his wife of 70 years, Billie Sue McNeil Wilson of Monticello; two sons, Rick Wilson and wife Cam of Monticello and Steve Wilson and wife Sheila of Mansfield, LA; two daughters, Dalene Stephenson and husband Mike of Monticello and Jackie Garner and husband Mark of Grapevine; eight grandchildren, April Silvey, Casey Stephenson and wife Sarah, Seth Wilson and wife Candace, Carrie Gray and husband Stephen, Stephanie Whann and husband Brandon, Josh Garner and wife Lauren, Sara Beth Wells and husband Tyler, and Matt Garner and wife Amanda; and was also blessed with 20 great-grandchildren.
Funeral services will be held 11:00 a.m. Saturday, November 19, 2022, at Stephenson-Dearman Funeral Home Chapel with Rev. Rob Leonard and Rev. Lori Fallon officiating. There will be a visitation preceding the funeral service from 10:00-11:00 a.m. at the funeral home. Burial will be in Cypress Memorial Gardens in Pine Bluff, AR. You can sign Mr. Benny Jack's guestbook page at www.stephensondearman.com.

Obituary Provided By:



943 Highway 425 North
Monticello, AR 71655
www.stephensondearman.com