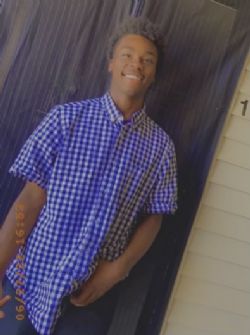 Decabrin Jamare Binns
April 9, 2005 - January 3, 2023
Decabrin Jamare Binns, age 17, of Monticello, Arkansas went to his heavenly home January 3, 2023, at Drew Memorial Hospital in Monticello, Arkansas. He was born April 9, 2005, to Cecily Binns and Harvey Lawson in Monticello, Arkansas. Decabrin was deeply loved by all his family and friends. He was to be a father any day to a little boy.

He is survived by his mother, Cecily Binns; dad, Harvey Lawson, Sr.; two brothers, Zayden Morgan and Harvey Lawson, Jr.; two sisters, Kencily Lawson and K'Cey Lawson; two grandmothers, Pearlene Binns and Rose Mary Childs; three uncles, Ced Binns, Xavier Binns, and Quincy Binns; eight aunts, Jamonica Brown, Vanessa Binns, Avah Johnson, Markea Johnson, Lasheta Bonner, Shay Henderson, Felisha Johnson, and Kalephia Binns; cousins, MaKyla Folk and Shakyra Binns; as well as a host of cousins, friends, and family.

Obituary Provided By:



943 Highway 425 North
Monticello, AR 71655
www.stephensondearman.com