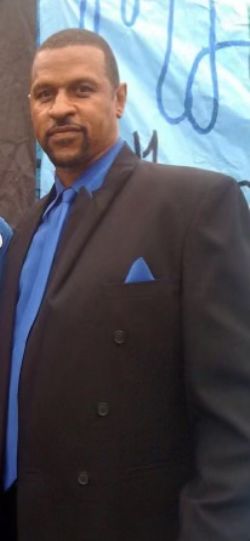 Levell Handley
March 9, 1961 - January 12, 2023
Levell Handley, age 61 of Monticello, Arkansas, made his transition Thursday January 12, 2023, in the comfort of his home surrounded by his wife Debra.
He was born in Monticello, Arkansas on March 9, 1961, to the late Larry (C.C.) Handley and Gloria Jean Grasper Hubbard. Levell Handley was a loving and devoted husband, father, brother, uncle and grandfather to his family and friends whom he loved so much. He was especially devoted to his God always had a big bright smile on his face and was a lover of sports. He was married to Debra for 33 years.
He accepted Christ at an early age. Levell attended Mt. Pleasant A.M.E. Campground Church. He was preceded in death by both of his parents, Larry (L.C.) Handley and Gloria Jeans Grasper Hubbard; his brother (Phil) Veance Jerry Binns; and his grandparents.
Levell worked at Advantages of Southeast Arkansas for 26 years in which he loved doing. He also retired from Safeway Stores Inc. after 18 years of service and was a member of UFCWU.
Survivors include his loving wife Debra of Monticello; his four sons Clayton Handley (Amanda) of Dallas Tx. Kendrick Simmons of Monticello, Jalen Handley and Terrell Handley of Little Rock; five grandchildren; Clayton Handley Jr., Amar'e Handley, and Cayden Handley of Dallas, TX, Savion Jackson of Conway and Ava Handley of Little Rock; three brothers; Gregory (Tikisha) Binns of Monticello, Gerald Grasper (Leean) of Monticello and Marcus Jordan of St. Louis Missouri; nine sisters; Delores Woodard (Barry) of Wilmar, Ar. Shelia Shelton (Lenard) of Pine Bluff, Bernester Dupree (Carl) of Crossett, Subrinna Coleman and Michelle Handley both of Monticello, Jackaye Handley and Kimberly Handley both of Jonesboro, Angela Williams (Joseph) of Pennsylvania, Regina Jones (Reginald) of Foutain Hill; his stepfather John Hubbard and a special father figure, Jerry Binns; along with a host of uncles, aunts, nieces, nephews, cousins, friends, and brothers and sisters in laws.
Funeral services will be 11:00 a.m. Saturday, January 21, 2023, at Stephenson-Dearman Funeral Chapel with Rev. D.J. Buffington presiding. Burial will be in Oakland Cemetery. You can sign Levell's guestbook page at www.stephensondearman.com.


Obituary Provided By:



943 Highway 425 North
Monticello, AR 71655
www.stephensondearman.com