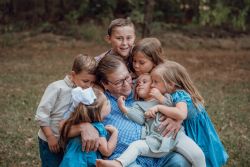 William "Bill" Dean Busby
May 29, 1957 - January 21, 2023
William Dean Busby, 65, of Monticello, AR, peacefully passed away on January 21, 2023, in his home surrounded by his daughter and his siblings. He was born on May 29, 1957, in North Little Rock, AR, to the late Dr. A.K. Busby and the late Louise Yocum Busby. He was also preceded in death by his wife, Roselyn Grubbs Busby, his son, William Busby, his brother, Jeff Busby, and his sister, Pat Busby Akin. Bill was raised in and blessed by a large, loving boisterous Busby clan. He married his high school sweetheart and the love of his life, Roselyn. They were blessed with two wonderful children, Kelli and William, and then again with six beautiful grandchildren. Bill enjoyed life. He enjoyed people, piddling, and playing. He had an infectious and sometimes mischievous grin. He served kids as a teacher in the Monticello schools for over 26 years. He loved Razorback football, the outdoors, woodworking, gadgets, and making frequent impulse purchases.
Bill is survived by his daughter, Kelli Chandler (Colin) of Dripping Springs, TX; his daughter-in-law, Katelyn Busby, of Monticello, AR; brothers, Kelton Busby (wife Betty) of Little Rock, AR, and Dr. John Robert ''Bo'' Busby (wife Nina) of Little Rock, AR; sisters, Susan Wooldridge of Centerton, AR, Melissa Claycomb (husband Sonny) of Edmond, OK, and Jana Calhoun (husband Daron) of The Woodlands, TX; his six grandchildren, Rory Chandler, Rose Chandler, Elizabeth Jane Chandler, Georgia Chandler, Henry Busby, and Clara Busby; as well as a host of other family, including nieces and nephews who loved their Uncle Bill. Bill was blessed with a loyal and loving family and friends. If there was fun to be had, Bill was interested in having it! In his later years, he loved being ''Poppy'' to his grandkids. He was a genuine guy, and he will be greatly missed.
In lieu of flowers, memorial donations may be made in Bill's memory to the Madeline Grubbs Scholarship Fund, c/o UCA Foundation, Inc., UCA Box 4986, Conway, Ark. 72035 or the Jeff Busby Memorial Scholarship, c/o UAM Foundation Fund, PO Box 3520, Monticello, Ark. 71656.
In lieu of a visitation, the family invites you to a Celebration of Life for Bill Busby at the Monticello Country Club on January 27, 2023, at 5:30 pm. Heavy hors d'oeuvres will be served.
Please join us in sharing memories of Bill, Roselyn, and William Busby. A brief memorial service will be held Saturday, January 28th, 2023, at 10:30 a.m. at First Baptist Church of Monticello.
Honorary Pallbearers include Nat Grubbs, Robert Akin, Lee Busby, Paul Svoboda, Jim Beasley, Paul Lewis Dottley, Paul Henson, Phillip Herring, and John Ward.
Obituary Provided By:



943 Highway 425 North
Monticello, AR 71655
www.stephensondearman.com