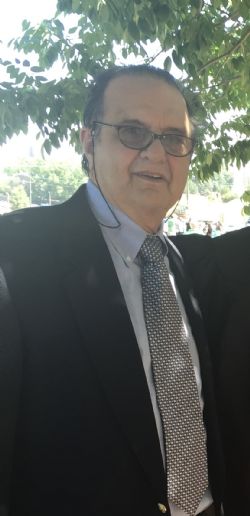 Ronald "Steve" Stephen Reed
January 16, 1945 - November 5, 2023
We lost a good one when Ronald Stephen (Steve) Reed gave up his earthly spirit on November 5, 2023, after a lengthy battle with cancer. Born on January 16, 1945, and raised in Columbus, Mississippi, Steve never forgot where he came from or the people he loved. Steve attended his beloved Mississippi State University, where he was a member of the Sigma Alpha Epsilon fraternity. While in school, Steve met and married his lifelong love and true companion, Michele (Missy) Dwyer, who he always knew to be the most beautiful girl ever at Mississippi State College for Women. Other than family and friends, Steve's greatest love was the Mississippi State Bulldogs, who brought him the thrill of victory and the agony of defeat too many times to count. A man of many interests, Steve loved music of all sorts (especially blues and rock and roll), fishing, canoeing, camping, river floats, photography, good food, cooking, animals of all sorts (especially the Boxers that he and Missy raised like children), and gardening (especially with plants that came from previous generations). He had a deep reverence for nature's creation in all of its forms, seeing its soul and spirit in all things. If Steve was in the room, you could count on lively (and loud) conversation and abundant laughter. He joyously shared story after story about the many friends he grew up with and cherished all of his life, the concerts and ball games he attended, the music he treasured, and, of course, the upcoming recruiting class that guaranteed the Bulldogs a national championship â€" and, more importantly, victory over Ole Miss - in football, baseball, and basketball ''next season.'' Whether by making you the world's most succulent omelet, giving you a CD he made of music he selected just for you, or welcoming you into his and Missy's beautiful home to spend hours on the patio enjoying good food, good music, and good family, Steve let you know he loved you. And we loved him. Cut it up, Steve Reed.

Family was at the very center of Steve's life. Steve was preceded in death by his parents, John E. and MisBeth (Proctor) Reed of Columbus. He is survived by his wife, Missy (Dwyer) Reed, and their two children, Stephanie (Kip) Pammenter of Leawood, Kansas, and John Reed of New Hope, Mississippi, his brother Jack (Beth) Reed of Columbus, three grandchildren, Ava Pammenter of Leawood, Kansas, Ashley Reed of St. Louis, Missouri, and Robert (Hayley) Reed of Waverly, Tennessee, one great-grandchild, Amelia Reed, and too many in-laws, nieces, nephews, and cousins to name.

The family will host a celebration of life on Saturday, November 11, with a visitation beginning at 2:00 p.m. and a remembrance at 3:00 p.m., at Memorial Gunter Peel Funeral Home, 716 2nd Ave North, Columbus, Mississippi. Everyone is welcome and encouraged to attend the earthly send-off of this remarkable man.

You can sign Steve's guestbook here on his page.
Obituary Provided By:



943 Highway 425 North
Monticello, AR 71655
www.stephensondearman.com