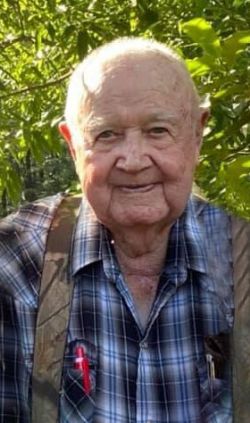 Kenneth Merchant
September 19, 1933 - November 12, 2023
Kenneth Kee Merchant, age 90 of Monticello passed away Sunday, November 12, 2023, at his home. He was born September 19, 1933, in Cominto, AR to the late William H. (Bill), and Eutilla Kee Merchant. He was a lifetime resident of Drew County.
He was a self-employed logger and pulpwood hauler for 18 years. He then became a Forester with the Arkansas Forestry Commission and was a timber buyer for Baylee Timber Co. for 3 years. He was a longtime member of Cominto Baptist Church and was a Sunday School teacher, Sunday School Superintendent, and Church Treasurer. He served on Collins School Board for 14 years and Drew Central Board for 4 years.
He enjoyed hunting, camping, fishing, and working with his horses, cattle, hogs, and dogs. He was a people person and had numerous friends and acquaintances. When the family would take an out-of-town or even an out-of-state outing, there would always be someone there who knew him. Although we never got the opportunity with him, we often said if he took a trip to another country he would no doubt run into someone he knew! He loved to talk.
Along with his parents, he was preceded in death by his beloved wife of 61 years, Martha ''Sue'' Merchant.
He is survived by his daughter, Pam (Johnnie) Murphy of Monticello, his son, Rusty (Glenda) of Monticello, and his brother, Billy Randel Merchant of Monticello.
He is also survived by his granddaughter, Brooke Erin (Josh) McGee of Whitehall, step-granddaughter, Heather (Brad) Hendrix of Almyra, and step-grandson, Brent Goetz of Stuttgart. He was also survived by a great-granddaughter, Sydney Allyssa (Matthew Smith) Reed of Hampton, and two great-grandsons Christopher Reed and Blake Hendrix, three great-great-granddaughters. Mackenzie, whom he fondly called ''Whistle Britches'', Gracelynn and Annalise, Sisters-In-Law, Wanda Chester of Benton, Jean Hooks of Halley, Shirley Kizer of Collins, and many nieces and nephews.
The Merchant family would like to extend a very special thanks to Dr. Jeff Reinhart, Dr. Adib Mohiuddin, and Arkansas Hospice for the excellent care given to our beloved Kenneth.
Funeral service will be Wednesday, November 15, 2023, at Stephenson-Dearman Funeral Chapel with Rev. Mike Griffith and Rev. Joe Chambers officiating. There will be a visitation Tuesday evening from 6:00-8:00 p.m. Tuesday evening at the funeral home. Burial will be in Rash Cemetery. Memorials may be sent to Rash Cemetery, c/o Glenda Merchant, 205 S. Cominto Rd., Monticello, AR 71655. You can sign Mr. Kenneth's guestbook page on this website.


Obituary Provided By:



943 Highway 425 North
Monticello, AR 71655
www.stephensondearman.com