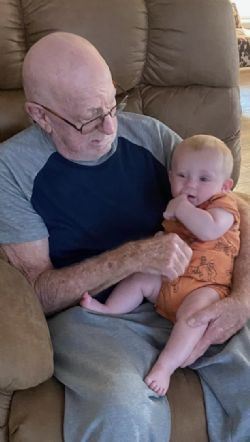 Roy "Dan" Daniel Simpson
July 10, 1940 - November 12, 2023
Roy Daniel "Dan" Simpson, age 83, of Wilmar, AR passed away November 12, 2023, at his home surrounded by his family. He was born July 10, 1940, in West Virginia. Dan was retired from Safeway and Harvest Foods. His wife, Gloria Jean Wilson preceded him in death.
He is survived by two daughters, Lisa Kilcrease and Cheri Rash both of Monticello, AR; grandchildren, Johnathon Ferguson, Lauren Shelby and husband Tyler, James Knight, and David Knight; great-grandson, Mason; and a great-granddaughter, Paisley.
There will be a come-and-go visitation at his home in Wilmar on Saturday, November 18, 2023, from 2:00 - 4:00 p.m.
You can sign Mr. Dan's guestbook here on his page.

Obituary Provided By:



943 Highway 425 North
Monticello, AR 71655
www.stephensondearman.com