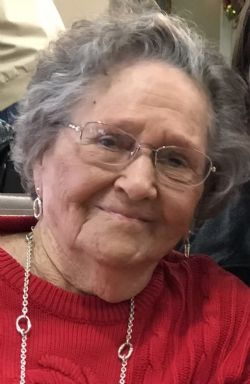 Ethel Burnett Smith
October 21, 1929 - November 15, 2023
Ethel Burnett Smith, age 94 of Monticello, formerly of Rohwer, AR, passed away Wednesday, November 15, 2023, at Drew Memorial Hospital in Monticello. She was born October 21, 1929, in Rohwer, AR to the late William Burnett and Katie Simpson Burnett.
She was an employee of Beck's Drug Store in her younger years along with being an Arkansas City school bus driver for many years. Mrs. Smith enjoyed fishing, shopping, flower gardening and spending time with her grandkids, especially the latest one, Collin. In addition to her parents, she was also preceded in death by her husband, L.A. Smith, Jr.; three brothers, Charles William Burnett, Elbert Burnett and Olen Burnett; and a sister, Juanita Baker.
She is survived by a son, Donald Gill and wife Margarita of Texas; a daughter, Tambara Cingolani and husband Ronnie of McGehee; one sister, Shirley Havard of McGehee; grandchildren, Mitzi Smith and husband Brian of Monticello and Rhonda Cruse and husband Dusty of Warren; great grandchildren, Grace Remick and husband D.J. of Monticello, Ashtyn Smith of Monticello, Mattie Hill and husband Daniel of Monticello, Chandler Bolling of Monticello and A.J. Bolling of Tillar; and a special great-great grandchild, Collin Remick of Monticello.
Graveside services will be 1:00 p.m. Friday, November 17, 2023, at McGehee Cemetery with Rev. Larry Clements officiating. You can sign Mrs. Smith's guestbook page on this website.


Obituary Provided By:



943 Highway 425 North
Monticello, AR 71655
www.stephensondearman.com