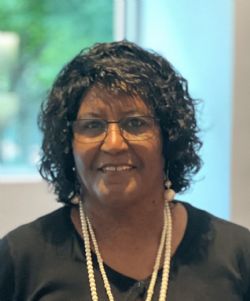 Ola Trotter Simmons
April 8, 1949 - November 19, 2023
Ola M. Trotter Simmons was born April 8, 1949, in Selma, AR to the late K.D. Trotter and Gertrude Shepherd Trotter. On November 19, 2023, God called his toughest angel to be by his side in heaven. To know her was to love her and to be loved by her was truly a blessing.
She attended Drew High School and was valedictorian of her graduating class of 1967. She was an amazing basketball player and always placed academia over entertainment.
Ola met her soulmate and best friend Lorenza Simmons Sr. in 1965 and they were joined in marriage on September 1, 1973. She enjoyed spending time with her family, friends, and church family. She developed a love for sewing and cooking and found joy in doing it for others.
While living in Detroit, Michigan, Ola was employed by Bendix Corporation. Upon returning to Arkansas, she was employed as a supervisor at Burlington Industries until its closing. She founded her own consulting business known as Kols. She was a co-founder of the first Charter school in Southeast Arkansas formerly known as ARISE Charter School. She also co-founded Trinity Full Gospel Church where she was affectionately known as ''Lady O'' . There were many lives touched by Lady Overseer through her preaching, teaching, exemplary leadership, and loving heart.
Ola professed her faith in God at an early age and was a member of New Bethel Missionary Church. She was always seen praising God and giving words of wisdom to all who encountered her.
She was preceded in death by her parents K.D. and Gertrude Trotter, two brothers: John Wesley Sr. and Albert Lee Sr., and five sisters, Emma Janice, Azzie Lee, Wanda Jean, Bettye Jean, and Mary Diane.
She leaves to cherish her memory; her devoted husband of 50 years Lorenza Sr.; her children: Kimberly (Kenneth) and ShaRonda of Monticello, AR, and Lorenza Jr. (Geisha) of Little Rock, AR; her grandchildren: Korsica (Denzell), Chynna, Jadeci, Italy, Lorenza III, A'Dejah, Darbee, Kenneth Jr., Jamiya (Samonta) and Paradise (Justin); seven great-grandchildren; her brothers: Karon (Yvette) and Kerwin (Cynthia) of Monticello, AR, DeJuan (Lisa) of White Hall, AR, and Gerald (Hilda) of Bryant, AR.; her sisters: Vertie of Garland, TX and Florine of Monticello, AR; her siblings in love: Maryland (Hosea), Mark (Jackie), Steven (Gail), Pamela (Eric), Shasta (Kevin), Sammy Sr., John, and Bobbie Jean; bonus grandchildren, a host of nieces, nephews, cousins, and friends.
Funeral Services will be on Saturday, November 25, 2023, at 11:00 a.m., at Trinity Full Gospel Church, 468 South Edwards in Monticello, AR. Visitation will be Friday, November 24, 2023, from 5:00 - 6:00 p.m. at Stephenson-Dearman Funeral Home. Burial will be in Oakland Cemetery.
You can sign Ola's guestbook here on her page.
Obituary Provided By:



943 Highway 425 North
Monticello, AR 71655
www.stephensondearman.com