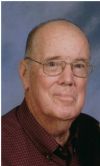 Robert Dale Handly, Sr.
July 10, 1936 - September 28, 2018
Stephenson-Dearman Funeral Home
943 Highway 425 North
Monticello, AR 71655
Map & Directions
Stephenson-Dearman Funeral Home
943 Highway 425 North
Monticello , AR 71657
9/30/2018 from 2:00-3:00 p.m.

Funeral Service
Stephenson-Dearman Funeral Home
943 Highway 425 North
Monticello , AR 71657
9/30/2018 at 3:00 p.m.
Map & Directions


Campground Cemetery
Campground Rd.
Monticello, AR 71655
Map & Directions

Robert Dale Handly, 82, of Monticello passed away Friday (Sep. 28, 2018) at home. Visitation will be at 2 p.m. Sunday, September 30, 2018 at Stephenson Dearman Funeral Home and The Reverend Ray Hearron will officiate. Funeral services will begin at 3 p.m. and the graveside burial service will be at Campground Cemetery.

Dale Handly was born July 10, 1936, in Monticello, a son of Leonard Brooks Handly Sr. and Josephine Starling Handly. He married the love of his life, Jo Ann Hales on December 27, 1957, in Monticello. They celebrated 60 years of marriage this year.

Surviving are a brother, Pat Handly of Quilcene, WA; two sons, Robert Handly of Monticello and his wife, Colleen, and Jeff Handly of Bryant, Arkansas and his wife Adena; three grandchildren, Craig Handly & his wife Laura, Jason Handly and Hunter Handly along with a great granddaughter Megan Handly. Dale was also preceded in death by his parents, his brother Leonard Brooks Handly Jr., and his sister Mignon Handly Pevey.

Dale graduated from Drew Central High School in 1956. He was an active member in the Second Baptist Church and served as a deacon for many years. He retired from Price Lumber Company in 2001 as a co-owner. He was also a farmer, logger, and real estate entrepreneur. He served on the Board of Directors for Drew Memorial Hospital, York Town Water Association and Union Bank.

Dale described his greatest accomplishments in life as being a Christian, husband, father, grandfather and good friend to many. Encouraging all he met to have a relationship with the Lord. The two things Dale never lacked were affection and his humor as he loved to tease others. Dale will be remembered for his wit and his generosity, as well as his love for the outdoors and his family most of all.