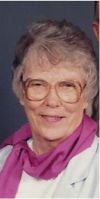 Jan Novak
February 1, 1925 - September 28, 2018
Stephenson-Dearman Funeral Home
943 Highway 425 North
Monticello, AR 71655
Map & Directions
Memorial Service
First Presbyterian Church
821 N. Main
Monticello , AR 71655
10/3/2018 at 10:00 a.m.
Map & Directions


Jan Novak, age 93 of Monticello, passed away Friday, September 28, 2018, at her home. She was born February 1, 1925 in Crystal City, TX to the late Raymond Nabours and Mary Curtis Nabours.

She was the widow of Frank Novak, Sr., a homemaker and a member of First Presbyterian Church in Monticello. In addition to her parents and husband, she was also preceded in death by one brother, Edward Nabours; and one sister, Betty Winnie. Born in Crystal City, TX, she later moved to San Antonio, TX and later to Spearman, TX where she met the love of her life, Frank. When people would speak of her, they would say things like she was nice, generous and kind. She also loved little children and spent many hours teaching them in church. To her own children, she was a wonderful mother, very funny and very wise. Thing always worked out better if you took her advice. They loved her a lot!

The family moved to Monticello in 1957 and Jan quickly became an active member of the community through church and volunteer work. She had a wide variety of interests and was always ready to learn something new. Like many women of her generation, she did what she called hand work, like sewing, knitting, crocheting or tatting. For a while, she took up painting. She loved to read and passed that love on to her children.

There is much that can be said about Jan, but the best way to remember her is that she was a woman of faith. She loved life, people and was loved by many.
She is survived by five children, Frank (Becky), Mary, J. D. (Linda), Dan (Debbie) and Ben (Martha).

Memorial service will be 10:00 a.m. Wednesday, October 3, 2018 at First Presbyterian Church with Rev. Mayetta Snyder officiating. Online guestbook at www.stephensondearman.com.