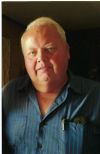 Oscar L. Wigley
December 28, 1956 - September 29, 2018
Stephenson-Dearman Funeral Home
943 Highway 425 North
Monticello, AR 71655
Map & Directions
Campground Methodiist Church
Campground Rd
Monticello , AR 71655
10/3/2018 from 4:00-5:00 p.m.

Graveside Servcie
Campground Cemetery
Campground Rd.
Monticello , AR 71655
10/3/2018 5:00 p.m.
Map & Directions


Campground Cemetery
Campground Rd.
Monticello, AR 71655
Map & Directions
Oscar L. Wigley, age 61 of Monticello, passed away Saturday, September 29, 2018 at his home. He was born December 28, 1956 in Monticello, AR to the late Pat Wigley and Maxine Long Wigley.

He was owner/operator of Wigley's Garage, later retired from Monticello School District as a bus mechanic and was a Christian of the Baptist faith. In addition to his parents, he was preceded in death by one brother, Marshall Wigley.

Survivors include his wife of 36 years, Sharon Woodard Wigley of Monticello; two daughters, Leah Michelle Wigley Conner and husband Brandon of Pine Bluff and Maxine Elizabeth Wigley Fuqua and husband Logan of Green Hill; four grandchildren, Gracelynn Joe Conner, Raelee Dawn Conner, Kael Lillibeth Fuqua and Laken Michelle Conner; one sister-in-law, Wanda Wigley Hopkins of Monticello; his mother-in-law, Martha Woodard of Star City; brother-in-law, Bobby Woodard of Star City; one nephew, Matthew Woodard of Monticello; one niece, Maxann Mizell of LA; one great-nephew, Lawton Smith; two great-nieces, Kelby Smith and Karter Smith; a host of great family and friends.

Graveside service will be 5:00 p.m. Wednesday, October 3, 2018 at Campground Cemetery. Visitation will be from 4:00-5:00 p.m. Wednesday at Campground Methodist Church. Online guestbook www.stephensondearman.com.