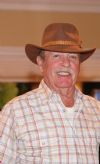 Robby "Rob" Young
May 3, 1938 - May 18, 2019
Stephenson-Dearman Funeral Home
943 Highway 425 North
Monticello, AR 71655
Map & Directions
His Home
715 Walnut Ave.
Wilmar , AR 71675
5/20/2019 from 6:00-8:00 p.m.

Gravesdie Service
Wilmar Cemetery
S. 12th St.
Wilmar , AR 71675
5/21/2019 at10:00 a.m.%>
Map & Directions


Wilmar Cemetery
12th St.
Wilmar, AR 71675
Map & Directions
Robby Gene "Rob" Young, age 81 of Wilmar, passed away Saturday, May 18, 2019 at his home. He was born May 3, 1938 in Drew County, AR to the late Jesse Leonard Young and Ester Maewood Webb Young.

He was a retired logger and was of the Jehovah's Witness faith. He enjoyed his home, working on the farm with his cows and chickens, but most of all being with his family. In addition to his parents, he was also preceded in death by a brother, Tommy Young.

Survivors include his wife, Candy Greco Young of Wilmar; one son, Ryan Young of Wilmar; one stepson, Johnny Clemons, Jr. of Hampton; one daughter, Robbin Curry of Woodlawn; and six grandchildren, Kylee Caldwell, Kensley Young, Tarren Young, Tanner Young, Katie Curry and Jonathan Curry.

Graveside service will be 10:00 a.m. Tuesday, May 21, 2019 at Wilmar Cemetery. Visitation will be 6:00-8:00 p.m. Monday evening at his home at 715 Walnut Ave, Wilmar, AR. Online guestbook at www.stephensondearman.com.