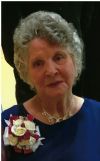 Charlsie Knobloch Evans
November 2, 1938 - August 11, 2019
Stephenson-Dearman Funeral Home
943 Highway 425 North
Monticello, AR 71655
Map & Directions
Stephenson-Dearman Funeral Home
943 Highway 425 North
Monticello , AR 71657
8/14/2019 from 10:00-11:00 a.m.

Funeral Service
Stephenson-Dearman Funeral Home
943 Highway 425 North
Monticello , AR 71657
8/14/2019 at 11:00 a.m.%>
Map & Directions


Union Ridge Cemetery
Midway Rt Rd
Monticello, AR 71655
Map & Directions
Charlsie Knobloch Evans, age 80 of Monticello, passed away Sunday, August 11, 2019 at the Woods Nursing & Rehab in Monticello. She was born November 2, 1938 in Star City, AR to the late James Moody Knobloch and Annie Myers Knobloch.

She was the widow of Doyle Evans, retired from Burlington Industries and was a member of Pleasant Grove Free Will Baptist Church. In addition to her parents and husband, she was also preceded in death by five brothers, three sisters and two daughters, Wanda Sue Bodiford and Diane Evans.

Survivors include three sons, Gregory Bodiford, Sr. and wife Judy and Kenny Bodiford and wife Laura both of Monticello and Randy Ellis and wife Dana of Bryant; two daughters, Kathy McDill of Malvern and Debra Thompson and husband Billy of Monticello; one brother, Buddy Knobloch and wife Betty of Monticello; twenty-two grandchildren and numerous great-grandchildren.

Funeral service will be 11:00 a.m. Wednesday, August 14, 2019 at Stephenson-Dearman Chapel with burial to follow in Union Ridge Cemetery. Visitation will be one hour prior to service time. Online guestbook at www.stephensondearman.com.