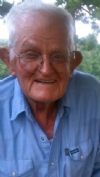 Elvin Wade Bates
December 9, 1918 - November 10, 2018
Stephenson-Dearman Funeral Home
943 Highway 425 North
Monticello, AR 71655
Map & Directions
Stephenson-Dearman Funeral Home
943 Highway 425 North
Monticello , AR 71657
11/11/2018 from 5:00-7:00 p.m.

Funeral Service
Stephenson-Dearman Funeral Home
943 Highway 425 North
Monticello , AR 71657
11/12/2018 at 1:00 p.m.
Map & Directions


Oakland Cemetery with Military Honors
800 North Hyatt St.
Monticello, AR 71655
Map & Directions
Elvin Wade Bates, age 99 of Monticello, passed away Saturday, November 10, 2018, at his home. He was born December 9, 1918 in Ashley County, AR to the late Earnest Allen Bates and Gertrude Florence Dingler Bates.

He was a farmer, carpenter, entrepreneur, United States Army Veteran of World War II and a member of Sardis Baptist Church. He also dug ponds and cleared land all over Drew County. Mr. Elvin's hobbies included working at his sawmill and bee keeping. He was known as an excellent guest speaker to many high school and college classes concerning his tenure in the U.S. Army during World War II. He has also been seen on such outlets as Monticello Cablevision and the Arkansas Educational Television Network (AETN). In addition to his parents, he was also preceded in death by his wife, Laura Roberta Haley Bates; three brothers, Marion Bates, Geral Bates and Alvin Bates; one sister, Sally Mae Bates Battle; one grandson, Wade Berry; and one great-granddaughter, Savannah Greer.

Survivors include four daughters, Kathy Berry and husband James, Ann Scogin and husband Larry and Faye Lewis and husband Randy all of Monticello, and Ruth Elvia Bates of San Leon, TX; one brother, T. R. Bates of Monticello; three sisters, Hattie Mae Reynolds of Jerome, Cattie Mae Lemley of Dermott and Louise Robinson of Cabot; nine grandchildren, Rhonda Kay Berry Hatley and husband Byron, Stephen Bonds and wife Melissa, Laura Bonds Clampit and husband Karl, Caleb Grissom and wife Erica, Haley Groce Greer and husband John Paul, Nicky Groce and wife Lindsay, Carrie Groce Rampey and husband Jonathan, Traci Samson Ravenscraft and husband Parks and William Skinner; twenty-one great grandchildren, seven great-great grandchildren and numerous nieces and nephews.

Funeral service will be 1:00 p.m. Monday, November 12, 2018 at Stephenson-Dearman Chapel with burial to follow in Oakland Cemetery with Military Honors. Visitation 5:00-7:00 p.m. Sunday evening at the funeral home. Online guestbook at www.stephensondearman.com.