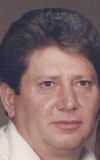 Donald Gene Barrett
March 8, 1942 - December 26, 2018
Stephenson-Dearman Funeral Home
943 Highway 425 North
Monticello, AR 71655
Map & Directions
Stephenson-Dearman Funeral Home
943 Highway 425 North
Monticello , AR 71657
1/3/2019 from 12:00-1:30 p.m.

Graveside Service
Lacey Cemetery
Lacey-New Hope Rd.
Monticello , AR 71655
1/3/2019 at 2:00 p.m.
Map & Directions


Lacey Cemetery
Lacey New Hope Road
Drew County, AR 71655
Map & Directions
Donald Gene Barrett, age 76 of Monticello, passed away Wednesday, December 26, 2018 at his home. He was born March 8, 1942 in Monticello, AR to the late Irvin Barrett and Mildred Hackney Barrett.

He was a retired supervisor for Certified Grocery, United State Army Veteran and a Baptist. In addition to his parents, he was also preceded in death by one son, Donald Anthony Barrett.

Survivors include three step-children, Curt Barrett, Cammie Lopez and Dana Priest, all of CA; one sister, Ann Shockey of CA; one nephew, Brett Shockey of CA and one great-niece, Robyn Goshen of CA.

Graveside service will be 2:00 p.m. Thursday, January 3, 2019 at Lacey Cemetery. Visitation will be 12:00-2:00 p.m. Thursday at the funeral home. Arrangements by Stephenson-Dearman. Online guestbook www.stephensondearman.com.