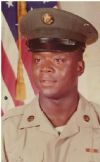 Willie Ed Franklin
August 7, 1947 - January 21, 2019
Stephenson-Dearman Funeral Home
943 Highway 425 North
Monticello, AR 71655
Map & Directions
Bethel A.M.E. Church
Cypress St
Fountain Hill , AR 71642
1/25/2019 11:00 A.M.%>
Map & Directions


Longview Cemetery
Dyson Landing Rd.
Wilmar, AR 71675
Map & Directions
Willie Ed Franklin, age 71 of Monticello passed away, Monday, January 21, 2019 at the Woods Nursing and Rehab Facility. He was born Longview, Arkansas on August 7, 1947 to the late John Coleman Franklin and Eddie Mae Avery Franklin. He was also preceded in death by his brother, Tim Franklin, and sister, Viola Franklin.

He confessed his hope in Christ at an early age and became a member of Bethel A.M.E. Church, Fountain Hill, Arkansas. He attended and graduated with honors from Fountain Hill High School. After graduation, he entered into the U.S. Army and received a Culinary of Arts degree. He lived in several states, Missouri, Nevada, New York, Texas, and Wisconsin, while he served in the military. He was employed by J.B. Hunt Trucking Co. for several years as a cross-country driver, and the Metro Patrol Police Station in Kansas City, Missouri, as a policeman. He was also employed with Steve Bolin Logging Co., as a driver.

He leaves to cherish his memories, four sisters, Margaret Gray of Lacy, AR, Estelle Lemon of Monticello, AR, Hila Jean Daniels of Crossett, AR, and LaNell Franklin-Ross of Pine Bluff, AR; one brother, James Franklin (Mary Nell) of Ashdown, AR; one aunt, Opal Jean Franklin of Maumelle, AR; and a host of nieces, nephews, cousins, and friends.

Funeral Service will be at 11:00 a.m. Friday, January 25, 2019 at Bethel A.M.E Church in Fountain Hill, AR with burial in Longview Cemetery. Visitation will be one hour prior to service. Online guestbook www.stephensondearman.com.