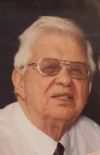 Rev. James W. Beck
March 12, 1923 - February 8, 2019
Stephenson-Dearman Funeral Home
943 Highway 425 North
Monticello, AR 71655
Map & Directions
First Assembly of God Church
915 Hwy 425 N
Monticello , AR 71655
2/13/2019 from 12:00-1:00 p.m.

Funeral Service
First Assembly of God Church
Hwy 425 N.
Monticello , AR 71655
2/13/2019 at 1:00 p.m.%>
Map & Directions


Enon Cemetery at Rye with Military Honors
Hwy 63
Rison, AR 71665
Map & Directions
Rev. James W. Beck, age 95 of Monticello, passed away Friday, February 8, 2019 at Jefferson Regional Medical Center in Pine Bluff. He was born March 12, 1923 in Tuckerman, AR to the late Sam Beck and Stella Hunter Beck.

He was preceded in death by his wife of 76 years, Mildred Thompson Beck, a retired Assembly of God Minister, United States Army Veteran of World War II and a member of First Assembly of God Church of Monticello. He pastored churches in North and South Arkansas for 50 years. He was truly a servant of The Lord, witnessing up to the last day of his earthly life. He was a very kind and loving man, a devoted husband, father and grandfather. As a young man, he loved and played all kinds of sports and served his country in the United States Army, serving on the front lines in Germany. He will be lovingly missed by his family and by those who loved him. In addition to his parents and wife, he was also preceded one sister, Gracie Stone; and two brothers, Owen Beck and Earl Beck.

Survivors include two daughters, Mary Culpepper of Fayetteville and Phyllis Binns and husband Rick of the Rock Springs community; four grandchildren, Angelia Smith and husband David of Woodlawn, Todd Morrison of Sulphur Springs, Brian Culpepper and wife Cristina of Fayetteville and Dr. Chris Culpepper of Benton; seven great grandchildren, Ashley Butler, Hunter Smith, Storm Smith, Jordan Davis, Willem Culpepper, Walden Culpepper and Clara Culpepper; five great-great grandchildren, Traver Butler, Allysa Butler, Kaylie Butler and Orion Smith; and numerous nieces, nephews, other relatives and friends.

Funeral service will be 1:00 p.m. Wednesday, February 13, 2019 at First Assembly of God Church with burial to follow in Enon Cemetery at Rye with Military Honors. Visitation will be held one hour prior to service time at the church. Online guestbook at www.stephensondearman.com.