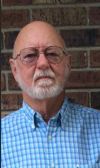 Dempsey "Randy" Randolph McDonald, Jr.
December 2, 1947 - November 14, 2019
Stephenson-Dearman Funeral Home
943 Highway 425 North
Monticello, AR 71655
Map & Directions
Stephenson-Dearman Funeral Home
943 Highway 425 North
Monticello , AR 71657
11/19/2019 from 6:00 to 8:00 p.m.

Funeral Service
Stephenson-Dearman Funeral Home
943 Highway 425 North
Monticello , AR 71657
11/20/2019 at 2:00 p.m.%>
Map & Directions


Oakland Cemetery with Military Honors
800 North Hyatt St.
Monticello, AR 71655
Map & Directions
Fresenius Medical Care Foundation
P O Box 789236
Philadelphia, PA 19178


Dempsey Randolph "Randy" McDonald, Jr., age 71 of Monticello, passed away Thursday, November 14, 2019 at his home. He was born December 2, 1947 in Monticello, AR. He was preceded in death by his wife, Shirley Fullbright McDonald, and his father, Dempsey Randolph McDonald, Sr.

A Hamburg native, Randy was the eldest of four children and spent his childhood summers working on Andy Johnsonís rice farm. His family recalls fondly that he would drive a tractor home for lunch every day to watch As the World Turns. In 1967 he enlisted in the Navy and served as an electrician on the USS Pocono until 1971. He often regaled his grandchildren with stories of docking in Greece and sailing through the Bermuda Triangle to deliver supplies and troops to Vietnam.

After his service he attended classes at the University of Arkansas at Monticello. He worked as a Computer Systems Analyst at Burlington Industries for thirty-three years, where he met his beloved wife, Shirley, and countless life-long friends. Former colleagues recall his smile and sense of humor, as well as his dedication to his work.

He was an active supporter of Monticello High School, working in the concession stand during football season all nine years his daughters marched in the band. Randy was a nurturing and loving father. He never missed a school function for his children or grandchildren. He loved nature and was a great outdoorsman; he taught his children and grandchildren to identify plants and animal tracks, and owned an impressive collection of walking sticks.

Randy was a member of Immanuel Baptist Church, where he volunteered in the Food Pantry and worked on multiple committees. He loved his extended church family, who helped him stay positive during his long illness.

Throughout his illness, Randy maintained his patience and sense of humor. He was a man of grace and kindness. He never met a stranger. He loved freely and with the whole of his heart. He will be missed greatly by the many lives he touched, including those of his great-grandchildren, who brought him so much joy towards the end of his life.

Survivors include two daughters, Christie McDonald of Monticello and Cindy McDonald Bearden of Gulfport, MS; his mother, Alyce McClerkin McDonald of Hamburg; two brothers, Jack McDonald and wife Debbie and James McDonald and wife Becky both of Hamburg; one sister, Susan Stanley and husband Mike of Hamburg; two granddaughters, Alannah Hensley of Washington D.C. and Madison Daniels of Monticello; one grandson, Gabriel McDonald of Monticello; one great-granddaughter, Eden Faulkner; and one great-grandson, Holden Faulkner. The family asks any charitable contributions be made to Fresenius Medical Care Foundation.

Funeral service will be 2:00 p.m. Wednesday, November 20, 2019 at Stephenson-Dearman Funeral Chapel with burial to follow in Oakland Cemetery with Military Honors. Visitation 6:00-8:00 p.m. Tuesday evening at the funeral home. Online guestbook at www.stephensondearman.com.