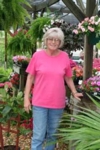 Estrallyn Hibblen Jones
September 7, 1946 - July 31, 2009
Stephenson-Dearman Funeral Home
943 Highway 425 North
Monticello, AR 71655
Map to Funeral Home
Stephenson-Dearman Funeral Home
943 Highway 425 North
Monticello , AR 71657
8/1/2009 from 6:00 - 8:00 P.M.

Funeral Service
Stephenson-Dearman Funeral Home
943 Highway 425 North
Monticello , AR 71657
8/2/2009 at 4:30 P.M.
Map to Service Location


Lacey Cemetery
Lacey New Hope Road
Drew County, AR 71655
Map to Interment Location
Estrallyn Hibblen Jones, age 62, of Monticello passed away Friday, July 31, 2009, at the Jefferson Regional Medical Center in Pine Bluff, AR. Born September 7, 1946, she was the daughter of the late Franklin Thomas Hibblen and Gladys Keturah Hankins Hibblen.

She was the manager of Greenscape Nursery and a member of the First United Methodist Church but attended Pauline Missionary Baptist Church with her daughter, Turah.

Survivors include her husband, Sampy Jones of Lacey; one son, David Jones of Hamburg; one daughter, Turah West of Lacey; one brother, Skip Hibblen and wife, Dottsie of Bryant; five grandchildren, Brandon Jones, Ashton Jones, Colby White, Emily West and Kamryn Jones; and one great grandchild, Bella Jones.

Pallbearers are Colby White, Brandon Jones, Ashton Jones, Terry Hopper, Woody Bohannan and Trey Bohannan.