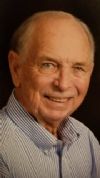 Joe H. Griffith, Jr.
January 25, 1944 - September 27, 2018
Stephenson-Dearman Funeral Home
943 Highway 425 North
Monticello, AR 71655
Map & Directions
Stephenson-Dearman Funeral Home
943 Highway 425 North
Monticello , AR 71657
9/29/2018 from 5:00-7:00 p.m.

Memorial Service
Stephenson-Dearman Funeral Home
943 Highway 425 North
Monticello , AR 71657
10/13/2018 at 2:00 p.m.
Map & Directions


Arkansas Children's Hospital
800 Marshall St. Slot 661
Little Rock, AR 72202


Second Baptist Church, Building Fund
1032 Old Warren Rd.
Monticello, AR 71655


Joe H. Griffith, Jr., age 74 of Monticello, passed away Thursday, September 27, 2018, at Baptist Medical Center in Little Rock. He was born January 25, 1944 in Monticello, AR to the late Joe H. Griffith, Sr. and Pauline Creighton Griffith.

He retired as President of L. D. Long, Inc. in 2012 after working there 49 years, served in the United States Army National Guard where he was called to active duty during the Berlin Crisis in September of 1961 and served until 1965. Of his accomplishments that he was most proud of was being one of nine founders in 1991 of the "Arkansas Timber Producers Assoc." "ATPA", giving the Arkansas loggers a united voice with the state's legislature regarding workman's compensation and other issues of concern for the logging industry. He was also most proud of helping to establish in 1991 the Drew County Log-A-Load for Children's annual fundraiser for the Arkansas Children's Hospital. He served on both organizations' boards until his health prevented it in 2015. Joe also served on the Drew Memorial Hospital board from 2001 until 2008.

He was an avid outdoorsman and hunter, enjoying the comradery of the people he was with more than the activity or bounty. He loved the logging industry and all with whom he worked. His greatest joy was being able to be of service to his family and friends. He was a true gentlemen and exemplified his Christianity through his gift of sharing and loving everyone he met.

He was a member of Second Baptist Church where he served on the personnel committee. In addition to his parents, he was also preceded in death by his first wife, Donna Long Griffith and his daughter, Niki Griffith Morgan Barnes; two brothers, Winfred Griffith and Napoleon "Don" Griffith; and one sister, Irene Griffith Lanphear, and a special cousin "sister", Barbara Jo Forrest.

Survivors include his wife, Gay Hoover Rabb Griffith of Monticello; one granddaughter, Randa Morgan of Ft. Smith; one grandson, Jay Morgan (Jacky) of Monticello; one brother, Gary Griffith of San Antonio, TX; two step-daughters, Jodi Rabb Ortner (Robert) of Jackson, MS and Lara Rabb Knott (Steve) of Mena, step granddaughter Taylor Ortner and step grandson Kaleb Ortner (Savannah) all of Jackson, MS; four special cousins Keitha Griffith of Maumelle, Steve Griffith (Donna) of Bryant, Heather Griffith McGarity (Ricky) of El Dorado and Holley Griffith Bauman (Rick) of Smackover; an Aunt, Maudie Crieghton Harmon of Star City; a sister-law, Jeannie Long Cobb (M.C.) of Memphis, TN and brother-in-law, Larry Don Long (Joann) of Monticello; He loved and was close to all his many nephews, nieces, great and great-great nieces and nephews and numerous cousins.

Visitation was held 5:00-7:00 p.m. Saturday, September 29, 2018 at Stephenson-Dearman Chapel. Memorial service will be 2:00 p.m. Saturday, October 13, 2018 at Stephenson-Dearman Chapel. Memorials may be made to the Arkansas Children's Hospital or the Second Baptist Church Building Fund. Online guestbook at www.stephensondearman.com.