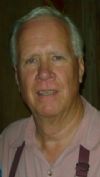 Billy J. Holland
July 13, 1943 - October 8, 2018
Stephenson-Dearman Funeral Home
943 Highway 425 North
Monticello, AR 71655
Map & Directions
Stephenson-Dearman Funeral Home
943 Highway 425 North
Monticello , AR 71657
10/13/2018 from 6:00 to 8:00 pm

Funeral Service
Stephenson-Dearman Funeral Home
943 Highway 425 North
Monticello , AR 71657
10/14/2018 at 3:00 PM
Map & Directions


Green Hill Cemetery
Greenhill Rd
Wilmar, AR 71675
Map & Directions
Billy J. Holland, age 75 of Monticello passed away on Monday, October 8, 2018 at his home. He was born on July 31, 1943 to the late Joel Holland and Gladys McCormick Holland.

He was owner operator of County Store Restaurant at Selma, retired from the Arkansas Dept. of Corrections as a food service supervisor and was a member of Oak Grove Assembly of God Church. Other than his parents he was also preceded in death by two brothers, Vernon and Sanky Holland; two sisters Betty Jean Graves and JoAnn Adcock.

He was a kind, loving and simple man. He loved Darlene, his wife and soulmate of 55 years along with his kids and grands with his whole heart. He enjoyed hunting and fishing but mostly working. He built the Country Store Restaurant with his own two hands and loved collecting antiques for it. It seemed each piece had a unique story behind it. He was well known for his humor and storytelling and brought a smile to every face he came in contact with. He was a Christian man who loved God and his church and found contentment in the simple things in life.

Survivors include his wife of 55 years, Darlene Scogins Holland of Monticello; one son, Steve Holland (Traci) of Monticello; one daughter, Stacy Berry (Shawn) of Dumas; two grandsons, Chance Rankin of Monticello and Stephen Berry of Dumas; two granddaughters, Autumn Berry of Alabama and April Berry of Sheridan; one brother, Jimmy Holland (Janette) of Mississippi; numerous nieces, nephews, cousins and friends and a daughter by choice Angela Snuffer of Monticello.

Funeral Service will be at 3:00 p.m. Sunday, October 14, 2018 at Stephenson-Dearman Chapel with Rev. Bobby Spencer and Rev. Brandon Laudell officiating. Burial will follow in Green Hill Cemetery. Visitation will be from 6:00 – 8:00 p.m. Saturday evening at the funeral home. Online guestbook www.stephensondearman.com.