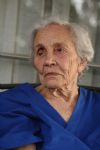 Edith Leola Pace
August 26, 1927 - July 1, 2019
Stephenson-Dearman Funeral Home
943 Highway 425 North
Monticello, AR 71655
Map & Directions
Stephenson-Dearman Funeral Home
943 Highway 425 North
Monticello , AR 71657
7/3/2019 3:00 p.m. to 4:00 p.m.

Gathering of Friends & Family
Stephenson-Dearman Funeral Home
943 Highway 425 North
Monticello , AR 71657
7/3/2019 4:00 p.m.%>
Map & Directions


Green Hill Cemetery
Greenhill Rd
Wilmar, AR 71675
Map & Directions
Gideon's International
P O Box 35
Monticello, AR 71657


American Cancer Society
901 North University
Little Rock, AR 72207


Edith Leola Owen Pace, age 91 of the Green Hill Community in Drew County, went to be with her Lord and Savior Monday, July 1, 2019, at the Drew Memorial Hospital in Monticello. She was born August 26, 1927, in Crigler, AR (Lincoln County) to the late Ernest Jackson Owen and Edith Josephine Morgan Owen.

She was the widow of Edward "Bo" Pace, a farmer's wife, longtime member of Green Hill United Methodist Church and a 1948 graduate of Arkansas A&M University (now UAM). Mrs. Leola was a former School Teacher, Drew County Justice of the Peace and Sesame School Board member. In addition to her husband and parents, she was also preceded in death by a son, Mike Pace; and a brother, Charles Owen.

Survivors include four sisters in law, Jean Owen, Cleora Crook, Faye Wiggam and May Hobbs. Children include one son, Mark Pace and wife Chris of Monticello; four daughters, Roxanne Karnes and husband Chuck of Monticello, Rachel Pace of Wilmar, Susie Wishard and husband Rodney of Monticello and Sally Smith and husband B.J. of Jonesboro; One daughter in law, Carolyn Pace of Green Hill; ten grandchildren, Tiffany Williams, Dale Pace, Allison Neill, Jack Morgan Pace, Megan Karnes, Sarah Pearce, Jake and Jessica Wishard, Aaron Smith and Kennon Wrench; a special adopted grandson, Andy Williams; and 13 2/3 great grandchildren. She also leaves a host of nieces and nephews.

Funeral Service will be 4:00 p.m. Wednesday, July 3, 2019, at Stephenson-Dearman Funeral Chapel. Burial will follow in Green Hill Cemetery. Family visitation will be one hour preceding the service from 3:00-4:00 p.m. Memorials may be made to Gideons International and the American Cancer Society. Online guestbook at www.stephensondearman.com.