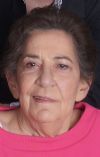 Leone Cason Hendrickson
August 14, 1930 - October 19, 2019
Stephenson-Dearman Funeral Home
943 Highway 425 North
Monticello, AR 71655
Map & Directions
Stephenson-Dearman Funeral Home
943 Highway 425 North
Monticello , AR 71657
10/28/2019 from 1:00-2:00 p.m.

Funeral Service
Stephenson-Dearman Funeral Home
943 Highway 425 North
Monticello , AR 71657
10/28/2019 at 2:00 PM%>
Map & Directions


Flat Creek Cemetery
Fountain Hill, AR 71642
Leone Cason Hendrickson, age 89 of Las Vegas, NV, formerly of Monticello, passed away Saturday, October 19, 2019, at her granddaughter's home in Las Vegas. She was born August 14, 1930 in Fountain Hill, AR to the late Jack Cason and Luna Brown Cason.

She was the widow of Paul Hendrickson, a homemaker and a member of the First United Methodist Church. Mrs. Leone was an avid tennis player, enjoyed playing cards with friends, working crossword puzzles and loved her family fiercely. In addition to her parents and husband, she was also preceded in death by a daughter, Linda Benjamin Moretti; three brothers, V. W. Cason, Jack Brown Cason and Robert Earl Cason; and one sister, Annis Marie Eackles.

Survivors include her sister, Gladys Deckelman Lambert of Monticello; grandchildren, Michelle Moretti and husband Conrad and Michael and Donna Moretti; three great-grandchildren all of Las Vegas, NV; and many loved nieces and nephews.

Funeral service will be 2:00 p.m. Monday, October 28, 2019 at Stephenson-Dearman Chapel with burial to follow in Flat Creek Cemetery in Fountain Hill, AR. Visitation will be one hour prior to funeral time. Online guestbook at www.stephensondearman.com.