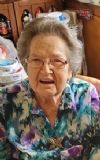 Melba Jane Thomasson Culpepper
April 12, 1939 - February 4, 2020
Stephenson-Dearman Funeral Home
943 Highway 425 North
Monticello, AR 71655
Map & Directions
Stephenson-Dearman Funeral Home
943 Highway 425 North
Monticello , AR 71657
2/8/2020 from 5:00-7:00 p.m.

Funeral Service
Stephenson-Dearman Chapel
943 Hwy 425 N.
Monticello , AR 71655
2/9/2020 2:00 PM%>
Map & Directions


Andrews Chapel Cemetery
Barkada Rd.
Wilmar, AR 71675
Map & Directions
Melba Jane Thomasson Culpepper, age 80 of Monticello, passed away Tuesday, February 4, 2020 at the Woods Nursing and Rehab in Monticello. She was born April 12, 1939 in Wilmar, AR to the late Bernice Thomasson and Lillie Measles Thomasson.

She was the widow of A.J. Culpepper, a homemaker and was the oldest active member of Wilmar Baptist Church. She was baptized on June 27, 1948 and held the record for the longest church membership. Melba loved cooking, baking and crocheting.

She was the driving force behind the Wilmar ladies ministry (Wings). She generously prepared delicious meals each month for the group (as recent as December) with secret ingredients that everyone was required to guess! She was always searching for recipes that were "different" so she could prepare it for the next meeting. She was always sharing her handmade creations with the ladies as well as her friends.

Melba handed out the "welcome bags" for visitors who came to our church and selflessly purchased most of the items that filled these bags. She also supported many church projects anonymously never wanting any credit for herself. Many things just "showed up" at church with no one knowing where they came from.

Survivors include three sons, Jim Culpepper and wife Eva of Sandia, TX, Bill Culpepper and wife Terry of Converse, TX and John Culpepper and wife Karen of Pearsall, TX; one daughter, Nancy C. Flores and husband Pete of Uvalde, TX; thirteen grandchildren, twenty-eight great grandchildren and two great-great grandchildren.

Funeral service will be 2:00 p.m. Sunday, February 9, 2020 at Stephenson-Dearman Chapel with burial to follow in Andrews Chapel Cemetery. Visitation will be from 5:00-7:00 p.m. Saturday evening at the funeral home. Online guestbook at www.stephensondearman.com.