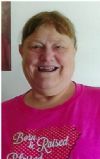 Violet "Roxie" Wells Ford
November 13, 1954 - May 1, 2020
Stephenson-Dearman Funeral Home
943 Highway 425 North
Monticello, AR 71655
Map & Directions
Family Viewing
943 Highway 425 North
Monticello , AR 71657
5/3/2020 from 2:00-5:00 p.m.

Private Graveside Service
Lone Sassafras Cemetey
Midway Rt.
Monticello , AR 71655
5/4/2020 at 1:00 p.m.%>
Map & Directions


Lone Sassafras Cemetery
Midway Rd.
Monticello, AR 71655
Map & Directions
Violet "Roxie" Wells Ford, age 65 of Arkadelphia, formerly of Monticello, passed away Friday, May 1, 2020 at National Park Medical Center in Hot Springs. She was born November 13, 1954 in Monticello, AR to the late Thomas Exall Wells and Joan Evans Wells.

She was a homemaker and was of the Baptist faith. Roxie enjoyed talking with people and was an avid cat lover. She was a big fan of gospel music and loved going to her church worship servicesl She loved her God. She had a kind, loving spirit and was a loving wife, mother, sister and grandmother. In addition to her parents, she was also preceded in death by one daughter, Anita Ford; and three brothers, Thomas, Ben and Aubrey Wells.

Survivors include her husband, Lloyd Ford of Lonoke; one daughter, Lisa Turner and husband Don of Bismarck; two granddaughters, Valerie Ramsey and Kristen Morrison and husband Jack; one grandson, James Ray; one great-grandchild, Cooper; one brother, Clarence Wells and wife Lily of Monticello; one niece, Kendall Wells and finance' Jagger of Monticello.

A private graveside service will be 1:00 p.m. Monday, May 4, 2020 at Lone Sassafras Cemetery. There will be a viewing from 2:00-5:00 p.m. Sunday at the funeral home. Online guestbook at www.stephensondearman.com.