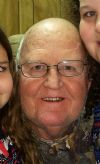 Billy Joe Hughes
July 24, 1947 - May 9, 2020
Stephenson-Dearman Funeral Home
943 Highway 425 North
Monticello, AR 71655
Map & Directions
Graveside Service
Rose Hill Cemetery
Hwy 83 N
Monticello , AR 71655
5/13/2020 at 4:00 p.m.%>
Map & Directions


Rose Hill Cemetery with Military Honors
Hwy 83 North
Monticello, AR 71655
Map & Directions
Billy Joe Hughes, age 72 of Pine Bluff, formerly of Monticello, passed away Saturday, May 9, 2020, at Jefferson Regional Medical Center in Pine Bluff. He was born July 24, 1947, in Monticello to the late S. G. and Thelma Myhand Hughes.

Billy Joe proved his patriotism and love of his country by serving in two military branches. In 1967, he enlisted in the National Guard and was assigned to the 1122nd Transportation Unit in Monticello before transferring his service to the Air Force Reserves unit in Jacksonville where he served until his retirement in 1987. Billy Joe started his career at International Paper in 1969 as a General Yard Laborer but spent most of his 41 year career as a General Mechanic assigned to the Woodyard Crane Shed. In 2010, shortly after accepting the position of Precision Maintenance Instructor, he retired from Evergreen Packaging.

Throughout his life, Billy Joe was an avid outdoorsman and enjoyed coon hunting with his favorite dog Buford as a young man. In his later years, squirrel hunting and crappie fishing became favorite pastimes. A love of animals led him into many livestock endeavors including cattle and chicken farming businesses and a multitude of different farm animals raised purely for his own personal enjoyment. Billy Joe always had a love of people and rarely passed up an opportunity to swap stories with friends, old and new. Until his death, he enjoyed "tinkering" in his shop and took pride in his ability to make broken things whole again. In addition to his parents, he was also preceded in death by one brother, Charlie Hughes.

Survivors include one son, Marty Hughes of Cornerville; one daughter, Carri Langley and husband Mike of Pine Bluff; two granddaughters, Corri Langley and Calli Langley; one sister, Betty Hughes of Monticello; a sister in law, Donna Hughes of Monticello; and a friend and caregiver, Cora Allen.

A graveside service will be held at 4:00 p.m. Wednesday, May 13, 2020 at Rose Hill Cemetery, with Rev. Leon Crutchfield and Wayne Jordan officiating. To ensure safe social distancing, the family requests that those in attendance park within view of the cemetery and remain inside their vehicles. The audio portion of the service will be broadcast via FM radio at a frequency available in the service program. For anyone who wishes to deliver personal condolences, there will be a drive through receiving line immediately following the service.