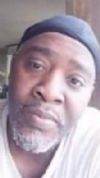 Anthony Tyrone Matlock
November 10, 1976 - June 21, 2020
Stephenson-Dearman Funeral Home
943 Highway 425 North
Monticello, AR 71655
Map & Directions
Graveside Service
Wilmar Cemetery
South 12 St.
Wilmar , AR 71675
6/27/2020 at 2:30 p.m.%>
Map & Directions


Wilmar Cemetery
12th St.
Wilmar, AR 71675
Map & Directions
On Sunday morning, June 21, 2020, God called one of his most beloved children home.  Anthony Tyrone Matlock departed this life at his home on this day to join his Lord. 

   Anthony was born November  10, 1976 to the late Richard Matlock and Carolyn Shorter.  He was a 1996 graduate of Drew Central High School where he was a much loved student. Upon graduating, he worked for Walmart as a stocker for over 20 years where he was known & loved by everyone who crossed his path. After, he went on to work at Cash Savers.  Anthony enjoyed life to the fullest. Spending time with his friends and family was what he enjoyed most.

    Anthony was preceded in death by his father  Richard Matlock, three grandmothers, Martha Jackson, Hattie Shorter and Susie Lee Matlock, as well as a special aunt, Mary Jackson. Two grandfathers, Elmo Shorter, Sr. & Simon Matlock. 

   He leaves to cherish his memories, his loving & devoted mother, Carolyn Matlock, three sisters, Miko Trotter(Melvin) and Danielle Jackson of Wilmar,Ar & Alishia Tenner of Little Rock, Ar. Five brothers, Cassius Fisher (Candee) of Chesapeake, Va, Jarred Jackson of Little Rock, Ar, Tristan Jackson of Wilmar, Ar,  Steven (Jasmine) Jackson of Conway, Ar & Kirk Allen of Dallas, Tx.

   He also leaves a very special friend, Telicia Harrell of Monticello, Ar. One nephew, Andrew Fisher & niece Shae of Chesapeake, Va. Two very special cousins,  Nyema Jackson and Elijah Miller of Wilmar, Ar. A special aunt Otha Brown of Warren, Ar as well as a host of cousins, aunts, uncles & friends who will all miss his humbling spirit.