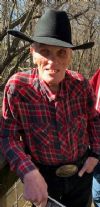 Gary Carter
December 26, 1941 - October 8, 2020
Stephenson-Dearman Funeral Home
943 Highway 425 North
Monticello, AR 71655
Map & Directions
Stephenson-Dearman Funeral Home
943 Highway 425 North
Monticello , AR 71657
10/10/2020 9:00 to 10:00 a.m.

Funeral Service
Stephenson-Dearman Funeral Home
943 Highway 425 North
Monticello , AR 71657
10/10/2020 10:00 a.m.%>
Map & Directions


Gary L. Carter, age 78, of Wilmar, Arkansas, passed away on Thursday, October 8, 2020, at his home. He was born December 26, 1941, to the late Grover and Louise Blackmon Carter. Gary was a huge hog fan and put a smile on everyone's face that knew him.

He is preceded in death by his parents, two sisters, Sandra and Jayme Carter, and two brothers, Carrol and Robert Carter.

He is survived by his special caregivers and families, Randall and Angela Davis of Wilmar, Corey, Ashleigh, Faith, and Hope, Jeff Young, and Brandon Vincent; nieces, nephews, cousins, friends, and his Oak Grove Free Will Church family.