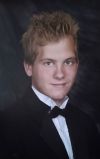 William Travis Lynn
January 24, 1992 - October 11, 2020
Stephenson-Dearman Funeral Home
943 Highway 425 North
Monticello, AR 71655
Map & Directions
Stephenson-Dearman Funeral Home
943 Highway 425 North
Monticello , AR 71657
10/14/2020 from 5:00-7:00 p.m.

Gathering of Friends & Family
Stephenson-Dearman Funeral Home
943 Highway 425 North
Monticello , AR 71655
10/15/2020 at 2:00 p.m.%>
Map & Directions


Rose Hill Cemetery
Hwy 83 North
Monticello, AR 71655
Map & Directions
William Travis Lynn, age 28 of Star City, passed away Sunday, October 11, 2020, from injuries sustained in an automobile accident. He was born January 24, 1992, in Monticello, AR. He was a Baptist and enjoyed playing video games and all electronics. William was preceded in death by his grandfathers, Travis Harris and GW Lynn; his grandmother, Mary Lynn; a niece, Brianna Grace Lynn; and his girlfriend who was in the vehicle with him at the time of the accident, Diana Nicole Bailey.

Survivors include his mother and step father, Belinda Ann Harris Church and Ricky Church of Hamburg; his father and step mother, George and Cathie Lynn of Bradenton, FL; three brothers, Christopher Rush, Jeremy Church and Ricky Blake Church; four sisters, Karla Lynn of Monticello and Helen Lynn of Hamburg, April Labia and Caitlyn Rush; his grandmother, Eloise Harris of Monticello; and seven nieces and nephews.

Funeral services following Covid-19 guidelines will be 2:00 p.m. Thursday, October 15, 2020, at Stephenson-Dearman Chapel. Burial will be in Rose Hill Cemetery. Visitation following Covid-19 guidelines will be from 5:00-7:00 p.m. Wednesday evening at the funeral home. Online guestbook at www.stephensondearman.com.