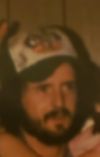 Roy Faye White
October 13, 1958 - October 14, 2020
Stephenson-Dearman Funeral Home
943 Highway 425 North
Monticello, AR 71655
Map & Directions
Stephenson-Dearman Funeral Home
943 Highway 425 North
Monticello , AR 71655
10/16/2020 from 5:00-7:00 p.m.

Gathering of Friends & Family
Stephenson-Dearman Funeral Home
943 Highway 425 North
Monticello , AR 71655
10/17/2020 at 3:30 p.m.%>
Map & Directions


Oakland Cemetery
N. Hyatt St
Monticello, AR 71655
Map & Directions
Roy Faye White, age 62 of Monticello, passed away Wednesday, October 14, 2020, at Drew Memorial Hospital in Monticello. He was born October 13, 1958, in Monticello, AR to Lovenner Cater White of Monticello and the late Sidney White.

He was a self-employed mechanic and a Christian.

Survivors include one son, Roy D. White of Monticello; one daughter, Nellie White of Monticello; a daughter by choice, Tina Brown and husband Ricky of Monticello; his mother, Lovenner Cater White of Monticello; one sister, Mary Thomas and husband James of Monticello; nine grandchildren, Tyler, Carlos and wife Julie, Shyann, Heaven, Biabanca, Allie, Cayden, Destiny and Zayden; two great grandchildren, Antonio and Dovie; two nieces, Jennifer and Lisa; one nephew, Sean; along with numerous cousins and friends.