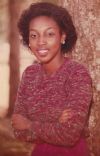 Jennifer A. King
April 4, 1963 - February 4, 2021
Stephenson-Dearman Funeral Home
943 Highway 425 North
Monticello, AR 71655
Map & Directions
Stephenson-Dearman Funeral Home
943 Highway 425 North
Monticello , AR 71657
2/12/2021 from 4:00-6:00 p.m.

Graveside Service
Green Mount Cemetery
Hwy. 277 N.
Monticello , AR 71655
2/13/2021 at 11:00 a.m.%>
Map & Directions


Green Mount Cemetery
Hwy 277 N.
Monticello, AR 71655
Map & Directions
Jennifer A. King was the 10th child born to Freeman and Ida Courtney April 4, 1963. Jennifer united with Christ at an early age, first joining Providence Missionary Baptist Church in Halley and later Lightwood Missionary Baptist Church, also in Halley.
Jennifer was very artistic and creative. As a little girl, she enjoyed drawing and art. In high school, she was an auxiliary band member. Jennifer was an avid reader and life-long learner. She enjoyed historical narratives and biblical studies. A 1981 graduate of Dermott High School, Jennifer studied cosmetology in Las Vegas, Nevada and practiced the profession for over 20 years. She attended the University of Arkansas at Monticello (UAM) and worked in education at UAM for approximately five years. She later became a Certified Nursing Assistant and worked in the profession for more than eight years. She was always the consummate professional and saw her career path as service to others. She married Roosevelt King June 18, 2011 and together they joined Zion Hill Missionary Baptist Church.
The mother of two sons, Darius Smiley of California and Terry King of Monticello. Jennifer leaves to cherish her memory, her husband Roosevelt King; her siblings, Arthur Courtney (Atlanta), Myrtle Courtney Williams (Las Vegas), Bobby (Joan) Courtney (Las Vegas), Thelma Jones (Little Rock), Joann Wright (Little Rock), Lillia Courtney Catron Freeman (White Hall), and Angela Courtney (Halley); and numerous nieces, nephews, family, and friends.
She is preceded in death by her parents, Freeman and Ida Courtney; her sisters, Armilla Courtney Thomas, Joyce Courtney Jiles and Brenda Courtney; and her nephews, Alex Courtney and Anthony Wright.