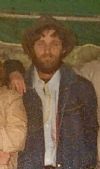 Kenneth Forrest
December 21, 1957 - March 19, 2021
Stephenson-Dearman Funeral Home
943 Highway 425 North
Monticello, AR 71655
Map & Directions
Kenneth Forrest, age 63, of Monticello, passed away March 19, 2021, at his home in Monticello. He was born December 21, 1957, in Drew County to the late J. C. Forrest and Martha Frances Bodiford Forrest.

He was a retired logger. Kenneth enjoyed spending time with his family and friends. He was also preceded in death by three brothers, Larry Forrest, Jerry Lewis Forrest, and Walter Forrest; one sister, Katy Forrest Land; and one daughter, Tabitha Forrest.

Survivors include two sons, Richard and Kenno Forrest; two brothers, Travis Forrest and Ricky Forrest both of Monticello; two sisters, Mary Hayes of Wilmar and Martha "Sis" Donaldson of Monticello; and a host of grandkids, nieces, nephews, family and friends.