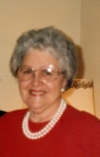 Era "Billye" Mae Perkins
August 3, 1925 - April 8, 2010
Stephenson-Dearman Funeral Home
943 Highway 425 North
Monticello, AR 71655
Map & Directions
Stephenson-Dearman Funeral Home
943 Highway 425 North
Monticello , AR 71657
4/11/2010 from 6:30 to 8:30 pm

Funeral Service
First Baptist Church
413 N. Main
Monticello , AR 71655
4/12/2010 11:00 AM%>
Map & Directions


Graveside
Tyronza Cemetery
Poinsett County
Tyronza , AR 72386
4/13/2010 10:00 A.M.%>
Map & Directions


Tyronza Cemetery
Poinsett County
Tyronza, AR 72386
Map & Directions
First Baptist Church - Piano Fund
413 N. Main
Monticello, AR 71655


Era Mae "Billye" Cline Perkins, 84, of Monticello, passed away Thursday, April 8, 2010 at Drew Memorial Hospital in Monticello. She was born August 3, 1925 in Tyronza, AR.

Billye, as she was fondly called, was the widow of Glen Evert Perkins, Sr, her husband of 65 years, was business manager and co-owner of Perkins Farm Supply and was a long time active member of First Baptist Church. She was the daughter of the late Harry Otis Cline and Tola Faye Cagel Cline and was preceded in death by one brother, Otis Cline. She was an active Drew County Extension Homemaker helping with the Drew County Fair Kitchen for many years and was chosen as the Outstanding Club Woman in 1981. Billye will be missed by her many friends and family.

Survivors include one son, Glen E. Perkins, Jr. of Monticello; two daughters, Diane Perkins of Burnaby, British Columbia, Canada and Rebecca P. Williams of Monticello; one brother, Harry Otis Cline, Jr. of Cherry Valley; four sisters, Gloria East of Marion, Gail Nichols and Kay Tucker both of Marked Tree and Catherine Cline of Tyronza; two precious grandsons, Michael Alan Williams of Tacoma, Washington and Thomas Evert Williams of Bentonville and numerous nieces and nephews.