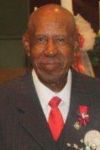 Laron "Son" Tucker
September 9, 1933 - February 8, 2019
Stephenson-Dearman Funeral Home
943 Highway 425 North
Monticello, AR 71655
Map & Directions
Stephenson-Dearman Funeral Home
943 Highway 425 North
Monticello , AR 71657
2/12/2019 from 5:00 to 7:00 pm

Funeral Service
St. Ollie Missionary Baptist Church
15152 Highway 425 North
Star City , AR 71667
2/13/2019 at 11:00 a.m.%>
Map & Directions


Oakland Cemetery
800 North Hyatt St.
Monticello, AR 71655
Map & Directions
Laron "Son" Tucker was born September 9, 1933 in Monticello, AR to Lee Vester and Della (Youngblood) Tucker, He was raised in Monticello where he accepted Christ into his life and was baptized at Morning Star Missionary Baptist Church at an early age. He eventually became a Sunday school teacher and Deacon. Later in life, he became a member and Deacon at St. Ollie Missionary Baptist Church where he loved worshipping throughout his final years. He enjoyed sports throughout his youth and school years and this remained a huge part of his life until the end. Upon graduation from Drew County Training School in 1951, he joined the United States Army where he bravely served in the Korean War, including time spent as a military policeman (MP). After his honorable discharge from the army, he met and married Betty Jo Harris on April the 14th of 1956. To this union 6 children were born.

After graduating from AM&N (now the University of Arkansas at Pine Bluff) with a degree in Social Studies, "Mr. Tucker" spent his life educating children, starting in Hermitage, AR where he began as a classroom teacher and became the Principal of the Westside High School.. He then began teaching in Monticello where he spent the majority of his 33 years of career as a Junior High Civics teacher. Here he continued to try to instill a desire to learn, an ability to respect and the want to "know better so that you may do better". After a year or two of retirement from the Monticello School District, he realized that he wasn't quite done shaping the minds of the future and spent a few more years as the Dean of Students at an Elementary School in Warren, AR. Eventually, he actually retired, or at least officially. He was still present at many athletic events, cheering the children, and sometimes grandchildren, of his former students. Throughout the years he spent whatever downtime that a full-time educator and father of 6 has, building and maintaining many youth leagues in a variety of sports. He acted as the Park Director of Jordan Park in Monticello where he tried to create a place to keep children active and out of trouble. He was extremely active in his community and was a constant beacon of respect and was always mindful of the importance of building up a child's character and spirit. His saying before games was "you will act intelligently on and off the court. You won't be too happy if you win, nor too sad if you lose. You will show good sportsmanship." His goal in life was to plant seeds. Seeds of education, seeds of hope, seeds of love, seeds of family and friends. Now, after a wonderfully blessed 85 years on this Earth. Those seeds are being reaped time and time again through many generations.

He was a member of the Arkansas State Teachers Association, Arkansas Education Association and the Arkansas Retired Teachers Association and the American Legion. He also was a Past Master and served as Prince Hall Mason in his home lodge of Bartholomew Lodge #28. He was very active in District Initiation.

On Friday, February 8, 2019. He peacefully passed away at the age of 85. In addition to his parents, he was preceded in death by one brother, George "Doc" Tucker; four sisters, Mattie Green, Vervia Tucker, Beulah Hutchins and Bertha Hewing; one son, Ramos Tucker; one grandson, Ramos Tucker Jr.; and one daughter-in-law Sanda Tucker.

He is survived by his loving wife of almost 63 years, Betty; one sister, Eleanor Sue Tucker of Monticello, AR; 3 sons, Carlos (Yvonne) Tucker of Camden, AR, Juan (Carla) Tucker of Jackson, MS and Geneo (Shirley) Tucker of Sherwood, AR; 2 daughters, Gale (McKinley) Reese of Monticello, AR and Angel (David) Weiss of Little Rock, AR; 1 daughter-in-law Jacqueline Tucker (Casey) Jones, of Warren, AR; 8 grandsons, Willie White Jr, Jeremy Tucker, ReCarlo Tucker, Paul Reese, Ryan Tucker, RaShawn Robinson, Tucker Weiss and Adam Tucker; 6 granddaughters, Ashley (Steve) Murdock, Laundon Tucker, Kambridge Tucker, Paeton Tucker, Reagan Tucker and Scheller Weiss; and 9 great-grandchildren, and a host of nieces and nephews.