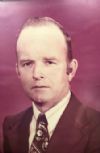 C.H. Stafford, Jr.
October 6, 1934 - January 10, 2020
Stephenson-Dearman Funeral Home
943 Highway 425 North
Monticello, AR 71655
Map & Directions
Graveside Service
Andrews Chapel Cemetery
Barkada Rd.
Monticello , AR 71655
1/12/2020 at 4:00 p.m.%>
Map & Directions


Andrews Chapel Cemetery
Barkada Rd.
Monticello, AR 71655
Map & Directions
Andrews Chapel Methodist Church
Barkada Rd.
Monticello, AR 71655


Charles Hiram "C.H." Stafford, Jr., age 85 of the Barkada community, passed away Friday morning, January 10, 2020 at Delta Memorial Hospital in Dumas, AR. He was born October 6, 1934 to the late Charles Hiram Stafford, Sr. and Tennessee Wynona "Tennie" Rhodes Stafford.

He was retired farmer, served in the military and was an active member of Andrews Chapel United Methodist Church.

Survivors include his wife of 64 years, Betty Jo Chambers Stafford of Barkada; and three sons Charles E. Stafford (Anita) of Perryville, Robert M. Stafford (Tammy) of Barkada and James "Jim" Stafford (Amanda) of Barkada. Mr. C.H. was also blessed with nine grandchildren and nineteen great-grandchildren.

Graveside service will be 4:00 p.m. Sunday in Andrews Chapel Cemetery. Memorials may be made to the Andrews Chapel Methodist Church of Barkada. Online guestbook at www.stephensondearman.com.