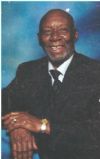 Roosevelt Carl Ellis
August 6, 1948 - February 4, 2020
Stephenson-Dearman Funeral Home
943 Highway 425 North
Monticello, AR 71655
Map & Directions
Funeral Service
Stephenson-Dearman Chapel
943 Hwy 425 N.
Monticello , AR 71655
2/14/2020 at 11:00 a.m.%>
Map & Directions


Roosevelt Carl Ellis was born in Huley, AR on August 6, 1948, to the late L.C. and Doris Ellis. He departed this life to rest on February 4, 2020.

He was educated in Dermott, AR in 1967. After graduation, he served in the United States Army. He received Christ at the age of 12 at Lightwood Baptist Church. He loved fishing, hunting and carpentry.

During elementary, he met his devoted wife, Mrs. Myrtha Johnson, and they married March 21, 1969. To their union was born four children.

He was preceded in death by his parents; one son, Dennis Ellis; one brother, Tracy Ellis; and one sister, Lendora Walton.

He is survived by his wife, Myrtha Ellis, of Monticello, AR; three sons, Kenneth Ellis of Monticello, AR, Titus Humphrey of Arlington, TX, and Ronnie Polk of Union City, CA; three daughters, Shirley Bynum of Pine Bluff, AR, Sonya Wise of Sacramento, CA, and Brandy Smith of Dothan, AL; two brothers, Dennis Ellis of Maryland and Maurice Ellis of San Francisco, CA; four sisters, Linda Rufkin of Chicago, IL, Rose Walton of Kentucky, Sheila Miller of Texas, and Janice Fletcher of Kentucky; grandchildren, Ronnie Polk III, Jimela Abdelkadir, Kendale Smith, Kennis Smith, Author Ellis, Katlyn Ellis, Kenneth Ellis, She'kia Humphrey, Majeila Humphrey, Braylon Humphrey, Taylor Humphrey, Jeremy Polk, Julius Polk, Jerrick Polk, Ja'mel Greenwood, and RonRon Polk; great grandchildren, Mr. Hason Moffett, Chloe Ellis, Miarae Ellis, KJ Ellis, Payton Humphrey, Landon McDade, Jayse Humphrey, and August Humphrey; a host of nieces, nephews and other relatives.

Funeral Service will be held at 11:00 a.m. Friday, February 14, 2020 at Stephenson-Dearman Funeral Chapel. Online guestbook www.stepehensondearman.com.