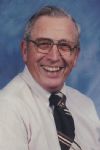 Norman "Kangaroo" Wayne Johnson
March 5, 1932 - August 21, 2020
Stephenson-Dearman Funeral Home
943 Highway 425 North
Monticello, AR 71655
Map & Directions
Viewing Graveside Ladelle Cemetery
Ladelle Rd.
Ladelle , AR 71655
8/26/2020 1:30 p.m.

Graveside
Ladelle Cemetery
Ladelle Rd
Monticello , AR 71657
8/26/2020 2:00 p.m.%>
Map & Directions


Ladelle Cemetery
Ladelle Rd.
Monticello, AR 71655
Map & Directions
Norman Wayne "Kangaroo" Johnson, age 88, of Watson Chapel, formerly of Ladelle, died Friday, August 21, 2020, at his home. He was born March 5, 1932, in Monette, AR, to the late LM and Pauline Pipkin Johnson.

He was also preceded in death by the mother of his children, Murl Murphy Johnson; his second wife, Mae Proter Johnson; a brother Jimmy Gerald Johnson; a sister-in-law, Nancy Carol Johnson; and a brother-in-law, Sam Rankin.

He graduated from Drew Central High School (1950), the University of Arkansas at Monticello (Bachelor of Science, 1954), then Henderson State University at Arkadelphia (Master of Science, 1974). He taught and coached at Selma, Kingsland, Strong and Watson Chapel School districts, retiring in 1993. In addition to coaching several championship teams for girls and boys basketball, Coach Johnson served as a teacher, athletic director and assistant principal for 39 years. His 1959 Kingsland High School, men's basketball team, had an undefeated record.

He was a christian and a member of Watson Chapel Baptist Church.

Norman is survived by his wife of 19 years, JoAnn Harvey Johnson; two siblings, Phyllis Rankin of Harrison and Ronnie Johnson (Jalynn) of Beebe; two sons, Dwayne Johnson (Kathy) of Hot Springs and Darryl Johnson (Monie) of Little Rock; five stepchildren, Jack Porter (Rita) of Wilmar, Larry Rains (Pam) of Springdale, Dr. Danny Johnson (Cheryl) of Bryant, Leonard Johnson of Monticello and Myra Tate (Timothy)Van Buren. He is also survived by two grandchildren Blake Johnson (Lauren) of Jonesboro and Kristen Devers (Matt) of Bryant; two great grandchildren, Millie Johnson and Blair Devers; 10 step grandchildren; 13 step great grandchildren and one step great great grandchild.

In lieu of flowers, memorials may be given to the charity of choice.

Burial services will be Wednesday, August 26 at 2:00 p.m. at Ladelle Cemetery in Monticello, Arkansas. Reverend Steve Monk will be officiating. There will be a viewing at the cemetery at 1:30 p.m. preceding the service. Due to the current pandemic, there will only be graveside viewing and visitation immediately prior to the services. Please visit www.stephensondearman.com for more information and to sign the online guestbook.