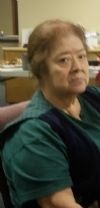 Lydia Guerrero
September 10, 1943 - September 10, 2020
Stephenson-Dearman Funeral Home
943 Highway 425 North
Monticello, AR 71655
Map & Directions
Mass of Christian Burial
St. Mark's Catholic Church
1016 N. Hyatt
Monticello , AR 71655
9/11/2020 1:00 p.m.%>
Map & Directions


Oakland Cemetery
800 North Hyatt St.
Monticello, AR 71655
Map & Directions
Lydia Guerrero, age 77, of Monticello, passed away Thursday, September 10, 2020 at her home in Monticello, Arkansas. She was born September 10, 1943 in Uruapan, Michoacan, Mexico to the late Florencia Valladares and Maria Cerano. She was married to Antonio Guerrero, Sr.

She is preceded in death by her parents.

She is survived by her husband; two sons, German Guerrero, and Antonio Guerrero, Jr.; two daughters, Rosalba Bran and Angelica Ma Guerrero; seven grandchildren, Lydia, Jorge, and Joel Bran, Suzeth Gonzalez, Francisco and German Guerrero; and one great grand, Josiah Green.

Mass of Christian Burial is Friday, September 11, 2020 at 1 :00 p.m. at St. Marks Catholic Church, Monticello, Arkansas. Burial will follow in Oakland Cemetery, Monticello, Arkansas.