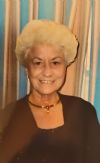 Christine Wolgamot
August 9, 1935 - November 13, 2020
Stephenson-Dearman Funeral Home
943 Highway 425 North
Monticello, AR 71655
Map & Directions
Rose Bud Cemetery
Hwy 36 W
Rose Bud , AR 72137
11/15/2020 1:00 P.M.

Graveside Service
Rose Bud Cemetery
Hwy 36 W
Rose Bud Road , AR 72137
11/15/2020 2:00 P.M.%>
Map & Directions


Rose Bud Cemetery
Hwy 36 W
Rose Bud, AR 72137
Map & Directions
Christine Wolgamot, age 85, of Mountain View, Arkansas, passed away Friday, November 13, 2020, at her daughter's home in Selma, Arkansas. She was born in Humphrey, Arkansas, on August 9, 1935, to the late Fielden and Pearl Adams Combs. She was a cosmetologist, a homemaker, wife, mother, grandmother, aunt, and friend. She was a member of Soul's Harbor Church in Mountain View. She enjoyed fishing, rabbit hunting, cooking, gardening, and playing card games.

She is preceded in death by her parents; two sons, Gilbert Lee Wolgamot, and Paul Wolgamot; one brother, F. L. Combs; and one sister, Jewel Combs-Justice.

She is survived by husband, Archie Callahan; one son, Phillip Brixie and wife Molly of Alexander, AR; one daughter, Susan Gibson, and husband Hal of Selma, AR; three grandchildren, Josh Gibson and wife Crystal of Selma, Phillip Lee Brixie and wife Abigal of Bryant, AR, Corrie Ferrell and husband Adam of Selma, AR; five great-granddaughters, Haley, Jaci, and Annalee Gibson, Jordyn and Taylor Ferrell all of Selma, AR; step-son, Henry Edward Brixie; step-daughter, Carma Jean Otts; one brother, Lemuel Combs and wife of Edra Ann of Mineral Springs, AR; four sisters, Joyce Hoy of Tempe, AZ, Kathy Bajorek and husband Jerry of Jacksonville, AR, Ruby Hall of Quitman, and Judy Overton of Texarkanna; as well as a host of nieces, nephews, family and friends.

Graveside services will be held, Sunday, November 15, 2020, at 2 p.m. in Rose Bud Cemetery, Rose Bud, Arkansas. Visitation will be held from 1-2 p.m. before the service in Rose Bud Cemetery. COVID guidelines must be followed. Please sign the online guestbook at www.stephensondearman.com.