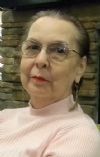 Sammie Dolores Palmer
June 19, 1937 - April 20, 2021
Stephenson-Dearman Funeral Home
943 Highway 425 North
Monticello, AR 71655
Map & Directions
Stephenson-Dearman Funeral Home
943 Highway 425 North
Monticello , AR 71657
4/23/2021 from 1:00-2:00 p.m.

Funeral Service
Stephenson-Dearman Funeral Home
943 Highway 425 North
Monticello , AR 71655
4/23/2021 at 2:00 p.m.%>
Map & Directions


Oakland Cemetery
N. Hyatt St
Monticello, AR 71655
Map & Directions
Alzheimer's of Arkansas
210 N. Walton Avenue #25
Bentonville, AR 72712


Sammie Dolores Palmer, age 83 of Russellville, passed away Tuesday, April 20, 2021, at Elmcroft in Maumelle, AR. She was born June 19, 1937, in Odessa, TX to the late Freddie Ocie Donaldson and Kitty Louise Burnett Donaldson.

She was the widow of Jimmy Dell Palmer, Sr. (August 2016), a homemaker, hair stylist, Registered Nurse, and Doll Doctor. Sammie worked at restoring dolls and creating porcelain heirloom dolls along with ceramics and sewing doll clothes. In addition to her parents, she was also preceded in death by a sister, Jerry Meral Naron; a brother, Freddie Donaldson; and a daughter, Lona Louise Palmer.

Survivors include her children, Jimmy Dell Palmer, Jr. (Kathy) of Ozark, John D. Palmer (Laura) of Russellville and Joe D. Palmer (Cheri) of Benton; a sister, Bonnie Gail Edwards of Lumberton, TX; and grandchildren, Kristen Elam (David) of Ozark, Rebecca Palmer of Ozark, Jody Palmer of Benton, Isabella Palmer of Russellville, Illias Palmer of Russellville, and Gabriella Palmer of Russellville; and great-grandchildren, Sean Elam and Lucas Elam both of Ozark.

The funeral service following Covid-19 guidelines will be 2:00 p.m. Friday, April 23, 2021, at Stephenson-Dearman Funeral Chapel with burial at Oakland Cemetery in Monticello, AR. There will be a visitation one hour preceding the service at the funeral home. Memorials may be made to Alzheimer's of Arkansas, 210 N. Walton Ave. #25, Bentonville, AR 72712. Online guestbook at www.stephensondearman.com.