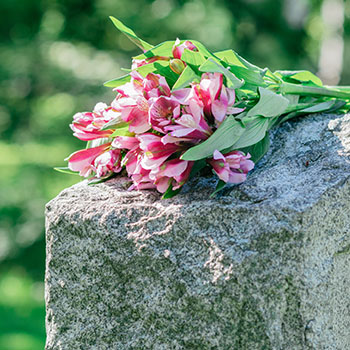 Permanent Memorialization
Having a permanent place of remembrance can be a great comfort to those left behind, and it allows your legacy to continue on for generations to come. offers a variety of unique memorial options including in-ground burial, aboveground entombment and cremation memorialization.
Remember a very special life with a custom tribute!
Choosing how to memorialize your loved one is an important and often-times difficult decision every memorialist understands. For many people, the number of options and possibilities available in crafting the perfect monument may either seem daunting or, if this is their first experience with memorials, they may not even realize the multi-tude of material, color, shape and design options.
When placing the deceased or memorializing an individual at a cemetery plot, many will have to decide whether it is best to have a marker or a monument placed at the location. It is important to understand that while both can be appropriate, they vary in size and shape.
Markers are typically small and made out of stone, such as a flat rectangle placed above the plot that will have the name, dates and other insignia carved into them. Monuments can refer to typical vertical headstones, which are larger, but will feature the same information. Sometimes, monuments can be customized to fit the persona of the deceased, whether they are in the shape of a three-dimensional cross, statuette, saint or other figure.
Which is More Appropriate: Markers or Monuments?
Sometimes, the deceased will have already purchased a marker or monument as part of their preplanned needs. When this is the case, the memorials are already either in place and just need to have a date added to them or will be ordered and placed later at the convenience of the family.
Those who want to order a monument at a later date may find that it is respectful to have a marker placed at the burial site in the meantime.
In other cases, surviving relatives will have to choose which is more appropriate for the individual and the circumstances at hand. Some cemeteries may only permit one uniform type of memorial, so it is vital to make sure what is allowed at the plot.
Using Both Markers and Monuments
It is not uncommon for individuals to be memorialized with both a marker and a monument. In fact, many family plots - or those for spouses - are identified by a singular monument that displays the family name. In these cases, the deceased is commemorated with a marker, creating both uniformity and individuality for the entire family plot.