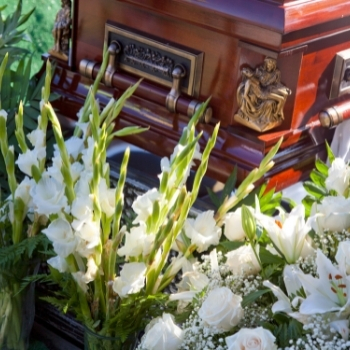 Order Flowers from our Local Florist
All Occasions

508 W Gaines Street

Monticello, Arkansas  71655
Flowers at funerals are no new idea, as they have been found at ancient Neanderthal burial sites dating back to 60,000 B.C.E. Blossoms have been a crucial part of the funeral process for much of human history. However, they have not always been used as decoration or as a symbol of sympathy and emotion. Rather, their origin is much more practical.
Before embalming, which started in the 1800s, flowers were used to cover up some of the natural processes of the deceased. Ancient writings, as old as the Talmud, have referenced fragrant flowers, as well as spices, being used in such a manner.
In order to keep an inviting way for loved ones who wanted to personally say goodbye to the departed, flowers created a more welcoming environment. Flowers were readily available and naturally scented, making them an ideal alternative to perfumes.
In the Victorian era, the deceased was set out in the family's home for many days; large bouquets were used to maintain a fresh and welcoming atmosphere for visitors. Many of the shapes of funeral arrangements we see today originate from this period. The size, color, look, and even grandeur of the offerings were seen as an important way to pay tribute to the deceased.
While the historic use of flowers in funerals has changed, there are a few other key reasons why they are still an essential part of many burial rites. First, they are symbolic. After embalming became commonplace, flowers transformed into a symbol and took on many different forms, including the circular wreath, which reminded onlookers of eternal life.
From its original purpose of offering a fresh scent during funeral procedures, blossoms are modernly used to send messages of comfort to those who are mourning. Flowers also represent the character of the person who has passed. By incorporating them into the service, blossoms create a blissful environment for those who are saddened by the departure of their loved one.